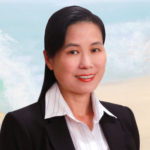 Leslee Meyers, Real Estate Salesperson
Hawaii Realty Group is pleased to announce the addition of Leslee Meyers February 2017.
My name is Les Meyers and I'm a real estate agent who focuses on helping people with realizing their property goals in Hawaii.  I have a keen and natural eye for identifying the strengths and weaknesses of individual listings, and truly enjoy researching the details and finding the ideal solution between seller, buyer, and property.
Prior to my involvement in real estate, I was a bilingual educator focused on establishing and operating cultural exchanges between students in the US and East Asia – primarily Korea.
It is a blessing for our family to live in Hawaii with Aloha spirit and multicultural environment.
We truly respect and love people and nature with our passion here.
I'm an active mom and fully involved in realizing our family dream of establishing a stable and resource secure base-camp in this amazing area for generations to come.